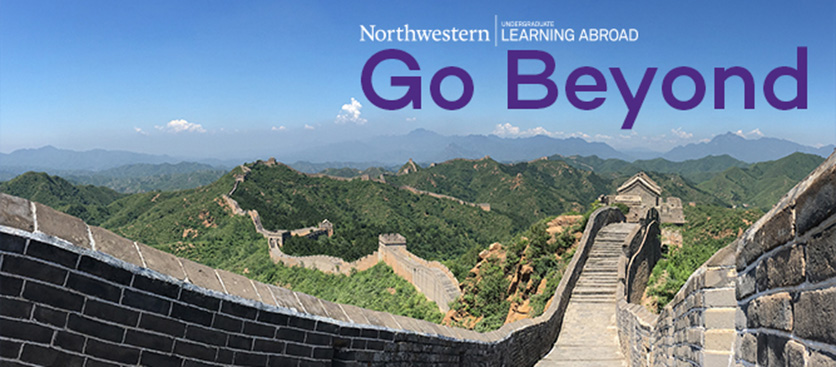 Studying Abroad
STUDY ABROAD OFFICE
Office Hours: Mon-Fri 9a-5p
847-467-6400
learningabroad@northwestern.edu
If you are a math major or minor considering foreign study and hope to include math courses in your curriculum while abroad, a careful choice of study abroad program and advance preparation are essential. You should be sure to ask NU's Study Abroad Office specifically about the availability of math courses at the programs you are considering. For example, our recent experience has been that several programs in England, Australia, and Switzerland offer many options, while math courses are unavailable to those studying in Seville.
Advance Planning
If you are planning to be abroad only part of the academic year and want to fulfill the math major sequence requirement by combining course work abroad with course work at NU, careful advance planning is necessary. In general, it is easier to do this if your foreign study is during the Fall Quarter.
Taking Math 300 early is good preparation for foreign study, since math courses that you take abroad are often theoretical (like our Math 320/321 or 330/331), and presuppose familiarity with a course like 300.
The Director of Undergraduate Studies is available to discuss math course options abroad and sign the major approval part of your study abroad application.

Math Majors and Minors can schedule DUS advising appointments using ADVISESTREAM.
If you are not already a declared Math Major or Minor, DUS appointments can be scheduled by contacting the UG Program Assistant (jenima.lyon@northwestern.edu).
It's essential that you bring along to that appointment as much information as you can find about specific math course offerings which will be available at the programs you are considering.
Additional study abroad Opportunities
Budapest Semester: 
http://www.budapestsemesters.com
Through this program, mathematics and computer science majors in their junior/senior years have the unique opportunity to spend fall, spring or summer semester in Budapest and study under the tutelage of eminent Hungarian scholar-teachers
Jacobs Semesters in Mathematics offers a limited number of study-abroad opportunities for undergraduate students in pure and applied mathematics at Jacobs University, an independent private university in Germany
Master of Mathematics / Master of Advanced Study (Part III of the Mathematical Tripos):http://www.maths.cam.ac.uk/postgrad/mathiii
This is a one-year course at the University of Cambridge for well-qualified students (typically graduating magna or summa in their mathematics major). Fees are around £17,500 pa. For well-qualified students, some scholarships are available.

 

 

This is an excellent option for students interested in applied mathematics or theoretical physics.
Back to top