Program Details
Conferences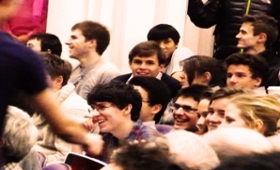 News & Events
Paul Goerss Wins Mentoring Award
Department Chair Paul Goerss has won an Award for Excellence in Mentoring Undergraduate Research in the Weinberg College of Arts and Sciences
Graduate Student Nicole Looper Received Award
Nicole Looper received the Outstanding Graduate Student Teaching Award in the Weinberg College of Arts and Sciences
Silas Johnson and Jason Siefken were awarded the TIMES Teaching Fellowship to support inquiry-oriented teaching in mathematics.
Bryna Kra has been elected as a new member to the American Academy of Arts & Science in the field of Mathematics.
János Kollár of Princeton University was awarded the Nemmers Prize for outstanding achievements in mathematics.