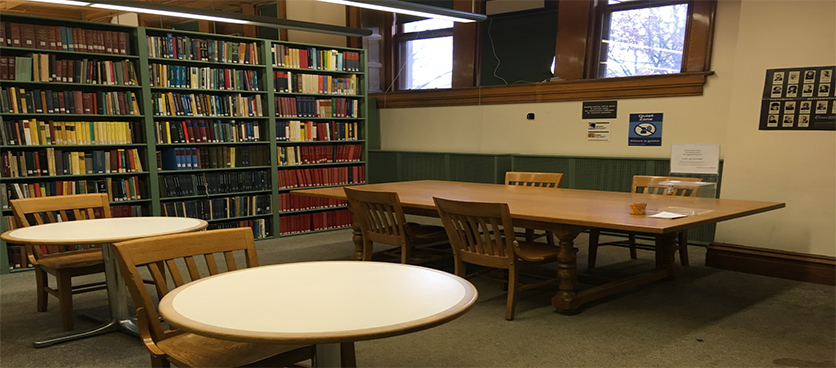 Boas Mathematics Library
Boas Math Library Access Update (as of 8/25/21):
Starting in the Fall Quarter, there will no longer be a library staff member at the desk during open hours, Monday – Friday from 10:00 a.m.  – 5:00 p.m. Graduate students and faculty members in Math and Stats will continue to have 24/7 access to the Math Library. Everyone with a Wildcard will be able to access the Math Library during open hours by tapping it on the keycard reader. If you need help finding a book or have general questions, feel free to email the Information Commons desk in University (Main) Library at library@northwestern.edu or call at 847-491-7658. 
As a reminder, faculty can login to NUsearch, the library catalog, and request that items to be delivered to their offices. Anyone can check out books from the Math Library using the self-checkout machine or login to NUsearch to request that items be delivered to University (Main) Library, Mudd Library, or their home. 
General Boas Math Library Information
Located on the first floor of Lunt Hall, the Boas Mathematics Library houses a research collection in pure mathematics and statistics of approximately 34,000 volumes of books and journals.   Ralph P.  Boas (1912-1992) was a long-time faculty member and chair of Northwestern's Department of Mathematics, a distinguished mathematician, and the executive editor of the Mathematical Reviews–the world's leading index to mathematical publications.
mathematics and statistics research guide
This contains key resources for searching the mathematics literature.  Want to make a research guide for a specific class?  Let Becca Greenstein know  at rgreenst@northwestern.edu or 847-467-6606.
Click here to access the Math and Stats Research Guide 
Training on Library Resources, Database Searching, Citation Management
The Boas Mathematics Library Staff can teach classes on library resources, database searching, and citation management to make students' research faster and more effective.  They are an excellent resource to meet your research needs.  Please contact Becca Greenstein (rgreenst@northwestern.edu)  if you'd like an instruction session or a tour of Mudd Library for one of your classes. 
Course reserves are short term loans of course materials. Books for undergraduate courses are located in the University (Main) Library, and graduate course reserve materials are located in the Boas Mathematics Library.
Request items from our stacks or other libraries to pick up at the circulation desk; scans of articles and book chapters will be delivered to your email.