Mathematics Announcements
Prof. Valentino Tosatti Awarded 2020 Tartufari International Prize of the Italian Academy Lincei
Northwestern University Mathematics Professor Valentino Tosatti 
has been awarded the Prof. Luigi Tartufari International Prize for Mathematics from the Accademia Nazionale dei Lincei.  This distinctive honor is bestowed by the academy every two years in various scientific fields, even more seldom in math itself.  
Founded in 1603, the Accademia Nazionale dei Lincei is the oldest scientific academy in the world, counting Galileo Galiei amongst its first members. The Prof. Luigi Tartufari international prize, established by Maria Tartufari Dalcò, is assigned to Italian and foreign scholars in four different fields of research: Mathematics, Astronomy, Physics and Chemistry, and Geosciences. The candidates are nominated by members of the Accademia dei Lincei and presidents of Italian and foreign Academies.
Learn More About the Accademia Nazionale dei Lincei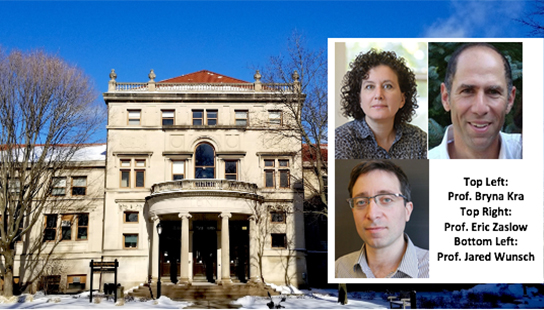 Institute for Mathematical and Statistical Innovation Announced
NU Mathematics Department has joined with other departments at Northwestern, University of Chicago, University of Illinois Chicago and University of Illinois Urbana-Champaign to propose the Institute for Mathematical and Statistical Innovation (IMSI). A $15.5M grant from the NSF will support its
creation.
The institute will connect theoreticians and applied practitioners working in mathematics and statistics in order to help address grand societal challenges: global health, climate models, economic theory, to name a few. IMSI will be housed at University of Chicago. At Northwestern, Math and Statistics were involved in the planning, and we hope that many other units within the university will be involved: economics, applied math, Q-Bio, NICO, etc.  
More specifically Prof. Bryna Kra serves as co- PI on the grant, Prof. Jared Wunsch will serve as a future Associate Director, and Eric Zaslow senior personnel on the grant and will serve on the Board of Directors. We hope this proves to be a lasting resource not just for department members, but for researchers nationwide.



Read More
NU Mathematics Dept 2019-2020 Newsletter
News & Announcements
New Endowed Chair Established in Mathematics
Prof. Murphy Receives 2020 New Horizons Prize in Mathematics
Prof. Valentino Tosatti Receives Renato Caccioppoli Prize
Prof. Antonio Auffinger Receives 2019 Weinberg College Distinguished Teaching Award
Back to top