Steve Zelditch
PhD, University of California, Berkeley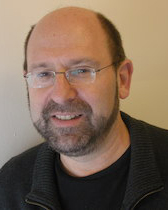 Biography
Wayne and Elizabeth Jones Professor of Mathematics at Northwestern.
Bergman prize (2013)
ICM special session talk (Beijing, 2002).
ICMP session talks (Brisbane 1997) and London (2000).
Invited 1-hour addresses AMS national meeting in Atlanta, Jan. 7, 2005 and January 7, 2016
Inaugural year Fellow of the AMS.
Simons Lectures, Simons Center (2014).
CBMS lectures (2011), iAS- Park City Lectures (2011).
Served on editorial boards of: Annales Scientifiques de l'Ecole Normal Superieure, American Journal of Mathematics, Communications in Mathematical Physics, Journal of Geometrical Analysis, Analysis & PDE, Journal of Mathematical Physics.
Selected Publications
(with Junehyuk Jung) Number of nodal domains and singular points of eigenfunctions of negatively curved surfaces with an isometric involution,

to appear in J. Diff. Geom.

Ergodicity and intersections of nodal sets and geodesics on real analytic surfaces. J. Differential Geom. 96 (2014), no. 2, 305-351

Inverse spectral problems for analytic plane domains II: Domains with one symmetry, Annals of Mathematics 70 (1) (2009), 205-269

(with Yanir Rubinstein) The Cauchy problem for the homogeneous Monge-Ampere equation, I. Toeplitz quantization. J. Differential Geom. 90 (2012), no. 2, 303-327.

 (with C. Sogge) Riemannian manifolds with maximal eigenfunction growth, Duke Math. J. 114 (2002), 387-437. 

Complex zeros of real ergodic eigenfunctions, Invent. Math. Volume 167, Number 2, 419--443 (2007).
Szego kernels and a theorem of Tian, Int.Math.Res.Notices 6 (1998), 317--331.
Uniform distribution of eigenfunctions on compact hyperbolic surfaces, Duke Math.\ J. {\bf 55} (1987), 919-941.
(with P. Bleher and B. Shiffman) Universality and scaling of correlations of zeros on complex manifolds, Invent. math. 142 (2000) 2, 351-395.
(with J. A. Toth) Quantum ergodic restriction theorems: manifolds without boundary. Geom. Funct. Anal. 23 (2013), no. 2, 715–775.
(with B. Shiffman) Random polynomials with prescribed Newton polytope. J. Amer. Math. Soc. 17 (2004), no. 1, 49--108